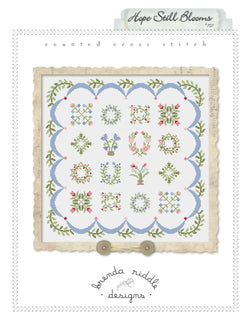 Brenda Riddle Designs
Hope Still Blooms - cross-stitch PDF chart
A Baltimore Album style cross-stitch design... based on my 'Hope Blooms' appliqué &/or embroidery quilt.
220 wide  x  220 high
This pattern is a PDF version of the printed chart/pattern.
Within 24 hours of your order, you will receive an email with your PDF chart/pattern(s).
When you receive your PDF chart/pattern - you will need to save the PDF to your computer or tablet for your use - or to print later.