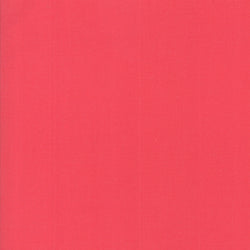 Moda
Bella Solid - Strawberry
Bella Solid in Strawberry (210)
100% cotton
by Moda Fabrics  -  42" wide
*** A wonderful soft red hue, 'Strawberry' is exactly like a fresh, ripe strawberry.  I have used 'Strawberry' as my 'red' background color in several of my fabric collections. When you want a softer side of red - I hope you give 'Strawberry' a try!
Fabric yardage is sold by the 1/2 yd. unit - so, if you wish to order multiple half-yards, you will need to enter 1 for ½ yd.,  2 for 1 yd.,  3 for 1½ yds.,  4 for 2 yds., etc. . .
Mulitple half-yard increments will be sent as one piece (for example, if you order 4 - we will cut one 2 yard piece.).