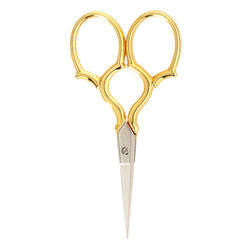 Moda
Gingher Epaulette Embroidery Scissors - 3½"
Gold-plated handles add elegance to the beautiful epaulette design of these embroidery scissors.
Stylish enough to be a gift or collector's piece, and sure to become a treasured heirloom.

Gingher Embroidery Scissors have slender blades and finely ground points perfect for cutting threads precisely. Each pair includes a fitted leather sheath.